Long Term Care Resource Center
What Is Long Term Care Insurance?
Imagine spending the equivalent of your annual income just on health care!
According to Genworth Financial, the median annual cost of care for a private room in a nursing center is $100,375 while the median annual cost for care for a private room in an assisted living facility is $48,000! Now factor in inflation and those numbers are only going to increase with time. In 10, 20 or 30 years, will you be able to afford the care you and or your loved one will need?
This kind of care is different from medical care, because it generally helps you to live as you live now instead of improving or correcting medical problems. People often think of long-term care as strictly nursing home care. Long-term care services include help with activities of daily living, home care, respite care, hospice care or adult day care. This care maybe given in your own home, an adult day care facility, assisted living facility, nursing home or hospice facility.
At Greenhill Financial Group, we understand first-hand the importance of having of long-term care insurance. We love what we do! Our number one priority is to make sure that our clients not only receive the best insurance for their needs but are as informed and educated on that subject matter as humanly possible. For many, this can be an overwhelming decision. Let us help you in your journey!
Please click the "Learn More" button below (or scroll down) to watch a multi-video presentation on the three most common types of Long-Term Care Insurance which are:
Traditional
Life Insurance Based
Annuity Based 
Presentation On Long-Term Care Insurance! (Coming Soon)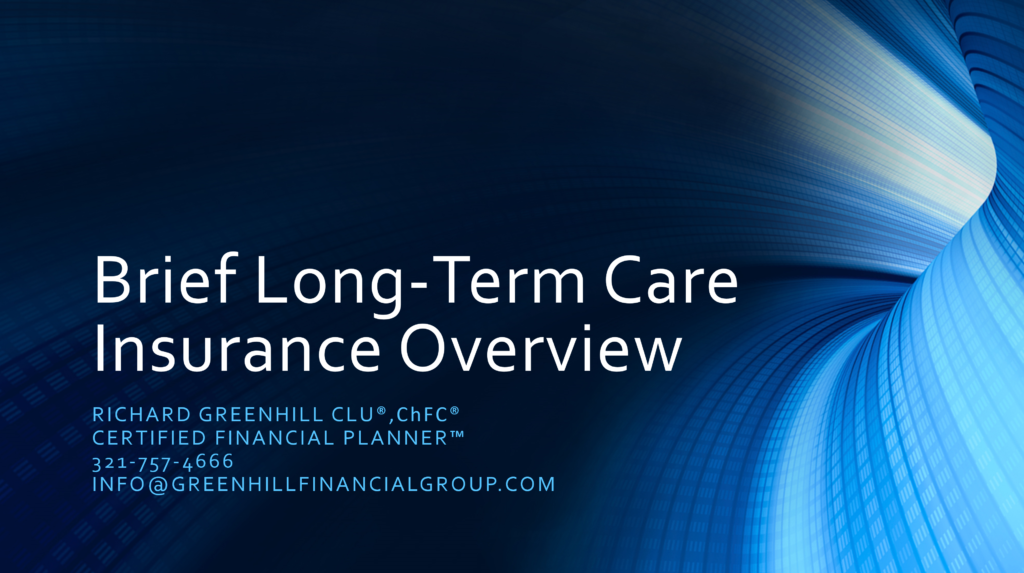 Key Long Term Care Facts!
The estimated number of residents is 71,000 (roughly 85% occupancy at any given time). *
The median annual cost of care for a private room in a nursing center is $100,375; $89,297 for semi-private room. (Genworth Cost of Care Survey)
Medicaid, which covers health care costs for low-income individuals, pays for approximately 60 percent of all long-term care spending. *
Medicare, which covers rehabilitation services after an individual is discharged from a hospital, pays for 19 percent of all long term care spending. *
Accounting for about 40 percent of total expenditures on nursing centers, Medicaid's payments cover the care of more than half of all nursing home residents. *
Medicare patients have short rehabilitative stays – 33 days average *
Medicaid and private pay patients have long lengths of stay – 386 days average *
Florida has one of the lowest over-65 population to nursing home population ratio in the country. *
*(source: Florida Health Care Association)